Standard Kevlar Cord Reinforced Lifting Bags
Our high pressure lifting bags are reinforced with Kevlar cord. Patented lifting bag construction assures excellent operation over a longer period of time. All metal parts that are installed in a lifting bag are made of brass.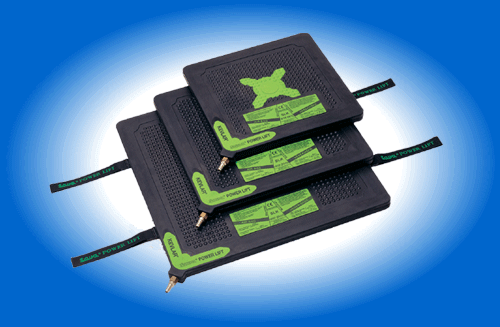 Lifting bags are thin and simple to use. The surface with interlocking dimples provides superior gripping therefore sliding is almost impossible even when two bags are stacked on top of each other. Eleven different sizes of lifting bags ar available with the lifting capacity from 1 to 64 tonnes.
Main advantages
Lifting bags reinforced with Kevlar cord
Thin and simple to use
Lifting bag metal parts are made of brass
Range of eleven sizes from 1 to 64 tonnes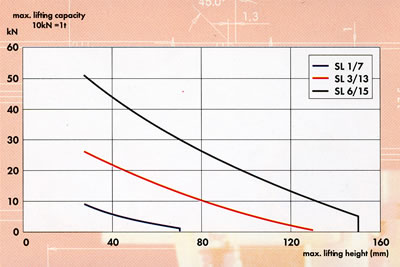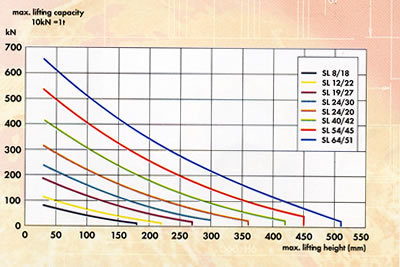 Flat Form Kevlar Cord Reinforced Lifting Bags
The main advantages of the Flat Form Lifting Bags are: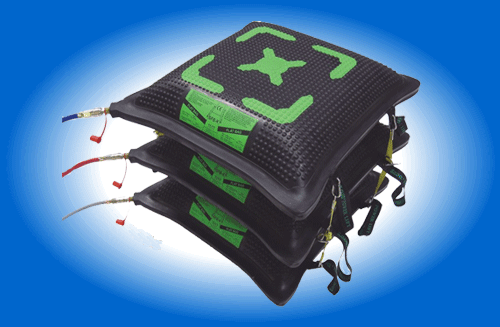 Flat form lifting bags eliminate the need for complicated height/weight computation graphs and uncertain lifting height calculations –simply stated a 35 tonne bag will lift 35 tonnes to specified height.
Flat form bags safely link together when stacked eliminating slipping. Maximum of three bags can be safely stacked.
Flat form lifting bags retain their flat profile eliminating rolling and shifting.
Heavy duty design and Kevlar reinforcing insure long life.












 

Flat-Form Lifting Bag Technical Data
 
Units of
Capacity
8-10
12-13
15-17
23-22
35-26
Code
 
519882
519883
519884
519885
519886
Size
cm x cm
45 x 45
55 x 55
61 x 61
78 x 78
91 x 91
Thickness
cm
2.8
2.8
2.8
2.8
2.8
Weight
kg
5.4
8
10.6
17.1
23.8
Insertion Height
cm
2.9
2.9
2.9
2.9
2.9
Max. Lifting Height
cm x cm
10
13
17
22
26
Max. Lifting Capacity
tonnes
8
12
15
23
35
Max. Inflation Pressure
bar
8
8
8
8
8
Test Pressure
bar
10.5
10.5
10.5
10.5
10.5
Bursting Pressure
bar
>15
>15
>15
>15
>15

 





Dead man lever operated dual control unit

Code: B3640


Back to top






Dead man lever operated single control unit

Code: B3641  


Back to top





Regulator with pressure gauges

Code: D3557


Back to top





5m hose assembly

5m hose assembly complete safety lock couplings to customer specification Code C3523



Back to top