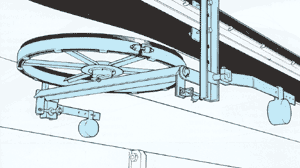 Cleans belts thoroughly

Quick & Simple Installation

Needs no maintenance between blade changes

Available in all belt widths

Suitable for both wet & dry conditions
Holywell Belt Cleaners are used world-wide in most industries on wet or dry belts. Typical applications include: Coal and mineral mines both underground and open cast; Coking plants; Sand and gravel pits; Quarries; Cement Works; Power Stations; Magnesium Plants; Foundries; Steel Plants conveying iron ore; Dock and Harbour installations etc.

Standard wiper blades are made from polyurethane specially developed for its extremely hard wearing characteristics and are suitable for most applications. Special wiper blade materials can be supplied to suit specific applications.

The major advantages of the Holywell design are quick and simple installation, very efficient cleaning action, automatic compensation for blade wear and no maintenance between blade changes. This results in increased belt efficiency and reduced manpower.

Holywell rotating belt cleaners have been supplied for a wide range of belt widths, from 450mm (18" ) to over 1800mm (72" ). Holywell also supply spillage conveyors which allow fines from the belt cleaner to be returned to the mineral conveyors circuit. These units are available with a number of alternative electric, mechanical and hydraulic drives.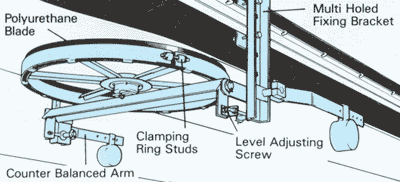 HOLYWELL SINGLE COUNTER-BALANCED MODEL FOR BELT WIDTHS UP TO 1200mm (48" ) 
Holywell rotating belt cleaners are driven by the belt. The direction and speed of rotation is controlled by adjusting the counter-balance weights. The belt cleaner automatically rotates when the belt is in motion regardless of its direction.
HOLYWELL TWIN COUNTER-BALANCED MODEL FOR BELT WIDTHS OVER 1200mm (48" ) 
For the larger belt cleaners a heavier construction is used and twin counter balanced arms are fitted. The operating principal is exactly the same as the single counter-balanced model.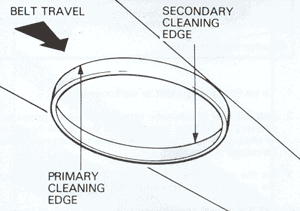 ROTARY ACTION IMPROVES BLADE LIFE-CLEANS TWICE 
Two cleaning edges are presented to the belt-the leading edge and the trailing edge. Because of the rotating action wear is evenly spread over the whole length of the polyurethane blade. The blade is therefore always in contact over the complete belt width.